Wednesday, 2 January 2013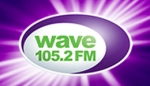 Wave 105 launched their latest set of Music 4 Jingles on Jan the 1st 2013.
We are once again delighted to be working with the team at Wave 105, who are one of our longest running UK stations.

The station launched with a custom Music 4 package in February 1999 and we are very proud to say they have been with us ever since.

We wish Wave 105 continued success during 2013 and beyond.
Audio/Video