Tuesday, 26 February 2013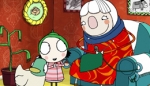 Sarah & Duck is the new hit CBeebies show entertaining the children of the nation every weekday at 4pm. Music 4 Studios have worked with the production team on this show from the initial pilots through to the finished programmes, recording all the voices for Sarah & Duck and the theme tune too!
Kids and adults alike are tuning in to watch Sarah and her best friend Duck take on the world!

We feel honoured to have seen this project grow from a humble idea to a full blown series on CBeebies.

Check out the very very very catchy theme tune below!
Audio/Video