Wednesday, 13 August 2014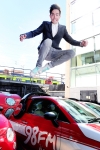 Dublin has a brand new drive show and brand new imaging from Music 4 London!
The station launched "The Big Ride Home with Dara Quilty" just a few hours after the jingles were delivered earlier today (Mon 25th Aug 2014).

We were still mixing the jingles at midday!

Anyway, they sound great (as does the show) and we are really chuffed to be part of this new show on 98FM

Take a quick listen via our Soundcloud page.

PS: How cool is this photo!!!!