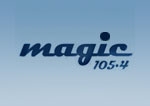 The nominations for the prestigious Sony Radio Academy Awards were announced last night. Our work for Magic 105.4 in London played a sizeable role in the stations successful nomintion in The Station Imaging Award.
Many other Music 4 clients had good news too. Three out of the five shows nominated for Best Breakfast Show are branded by Music 4 (Chris Moyles-Radio 1, Johnny Vaughn-Captial 95.8 and Jo & Twiggy-Trent FM).

Radio City, Radio 1, BBC7 and Virgin Radio also picked up nominations too. Good luck to all at the awards on 12th of May 2008.