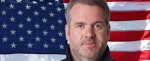 So, BBC Radio 1's Chris Moyles is stuck in New York but is back on the air via the studios of Sirius Radio.
To reflect this, Music 4 has managed to turn around new versions of his jingles reflecting the fact that Chris is a VAV (a victim of volcanic ash).

Hear the jingles live on Radio 1 from this morning (Wed 21st April).
Audio/Video