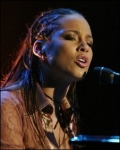 US songstress Alicia Keys is apparently singing the praises of 'North Wales', a Chris Moyles Parody song recorded here at Music 4.
The song, a parody of her hit with rapper Jay-Z, Empire State of Mind, is being played every day this week by Radio 1's Chris Moyles show in the run up to Radio 1's Big Weekend.

Instead of waxing lyrical over Brooklyn and Harlem, 'Keys' praises the delights of Conwy and Llandudno Junction.
But the show revealed: "It's a tongue-in-cheek tribute by a session singer."

See the full story on BBC NEWS or click 'go to project' below to hear a 30 second sample of the track.
Audio/Video