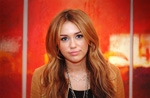 Miley Cyrus (aka Hannah Montana) ended a long day promoting her new new album "Can't Be Tamed" here at Music 4.
Multi-platinum selling Miley was at Music 4 for various radio and television interviews. In between she also had a little play on our new iPad which arrived her first thing Friday morning!

This is the second visit to Music 4 Studios and we're sure she'll be back again.

Her latest CD "Can't Be Tamed," is released later this month.