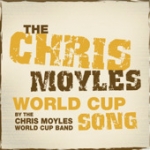 Music 4 have created a new mix of the main theme for The Chris Moyles Show on BBC Radio 1 to reflect the World Cup taking place in South Africa.
In addition to the remixed theme, we are updating Chris's jingles regularly during the tournament to reflect England's performance.

Audio coming soon, but for now, here's a blast from the past... The Chris Moyles World Cup Song.. still sounding great 4 years on: click here ... Still sounds great!