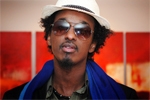 Somalian music sensation, K'Naan popped into the Music 4 studios on Tuesday to undertake a number of ISDN radio interviews.
His song, Wavin' the Flag' (featuring another Music 4 regular Will.I.Am and David Guetta), has been number 1 in over 11 countries and is Coca Cola's world cup soundtrack.

K'Naan had just returned from the World Cup Kick-Off Celebration Concert held in Soweto, South Africa and was full of the football spirit.

Music 4 is one of the hottest destinations in London for pop stars undertaking ISDN (down the line) interviews. Star treatment, great studios. Happy pop stars!