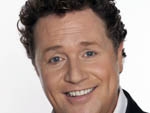 The Michael Ball Show, produced by Spungold, is new for summer 2010 on ITV1 and launched yesterday (Aug 16th 2010) with a glitzy new theme tune from the team here at Music 4.
Michael Ball is one of the nation's most celebrated musical theatre stars and ever popular TV and radio presenter who is known for his warm personality and great sense of fun.

Michael's show is a topical mix of entertainment, discussion and showbiz glamour with the occasional musical treat thrown in from the man himself.

Each weekday at 3pm, Michael chats with established showbiz personalities as well as introducing a variety of rising stars.

This theme tune follows in the footsteps of Music 4's theme tune for The Alan Titchmarsh Show also produced by Spungold which will return later in the year.

Audio/Video soon!