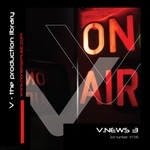 The team at Music 4 have delivered tons of red hot and brand new production music to 'V-The Production Library'
V.Sport 3, V.News 3 and V.Pop Beats 1 are all red hot off the press and available now.

V-The Production Library is now owned by Non Stop Music (a division of Warner/Chappell). To discover more and access the music please go to the Non Stop Music Website.