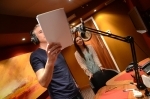 Three competition finalists spent the morning at Music 4 writing and producing jingles for The Chris Moyles Show, kicking off a day of creative challenges.
Natalie, Luke and Jack were told on air at 7.45am this morning that they had to come to Music 4 and write a jingle each. Our studios, producer Small Paul and the rest of the Music 4 team together with jingle singer, Richard Oliver, were all on standby ready to go. The jingles were written and recorded and played out on air by 9.45am ... not a bad turnaround time!

The winners were treated like superstars (well, we gave them coffee and yummy croissants!).

The eventual winner will get to go VIP (with up to 20 of their mates!) to Radio 1's massive dance party in Torbay, Devon this weekend, celebrating the arrival of the Olympic Torch on UK soil and showcasing the best in dance music.

You can check out the audio and photos below!
Photos