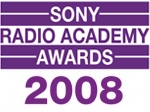 Music 4's music imaging for London's number 1 radio station, Magic 105.4, picks up a Gold at the Sony Radio Awards 2008 and Chris Moyles wins a Gold for Best Breakfast...
It was an exciting evening at The Sony Radio Awards for the Music 4 team as our work for Magic 105.4 helped the station secure the gold award for station imaging.

Judges comments:

"There was one word that all the judges said when they heard this entry "Class". The playlist and the production feel perfectly at home together - this is imaging that totally works on the air. Consistent imaging/brand positioning. A rich feel and depth of sound in all imaging executions. Very clear messaging making it easy for listeners to understand the proposition".

In addition, Chris Moyles picked up the coveted Best Breakfast Award. Music 4 creates a vast amount of custom music tracks and jingles featured on Chris's show and are very proud to be a part of Radio 1's most successful breakfast show for many years. Many other Music 4 clients walked away with awards at the ceremony so congratulations to all this years winners.

Previous successes at the Sony's in the station imaging category featuring our work include a Gold for BBC 7 and several bronze and silver awards for BBC Radio 1.