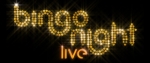 Themes, beds and game show elements created by Music 4 have been selected for use by ITV's new late night game show, Bingo Night Live, airing 5 nights a week (Tuesday - Saturday nights) around midnight on ITV1.
Bingo Night Live is a totally new interactive show where players download bingo cards from the ITV website and play completely free of charge.

Tracks created and produced by the Music 4 team are featured as the main themes, background beds and game play elements.