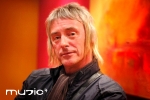 Paul Weller recently performed a live set featuring a number of tracks from his number 1 album "22 Dreams" from our newly refurbished studio 1 The live set and interview was sent via ISDN to the USA in real time for the influential syndicated radio show "World Cafe"...
The set featured Paul on vocals and acoustic guitar accompanied by Steve Cradock from Ocean Colour Scene. Paul even added in a live Cello player into the set.

We also recorded the set into Pro-Tools to facilitate additional mixes for future use by Paul's record company and management.

Paul and his team enjoyed the session and was extremely complimentary about the studio, the sound and the overall audio mix. This was the first live music session to take place at Music 4 studios since the completion of our recent upgrade but we are looking forward to many more in the future.