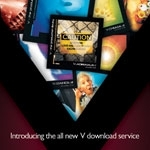 Visit v-theproductionlibrary.com to discover the new 'V' download service and access tons of great music tracks and production S/FX created by the team here at Music 4. It's quick and easy to register and use the service and we know you'll be impressed by all the brilliant features to make your hectic schedule that little bit easier...
Unlike many other download systems that can often be "clunky", you'll find the 'V' system is a dream to use.

Quickly search or browse for music and production S/FX then download the tracks as MP3's or WAV's to your desktop. All the sub mixes and production effects are grouped together with each track and finding the music return details is a breeze too.