Thursday, 16 October 2008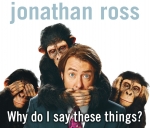 Music 4 Studios recently welcomed Jonathan Ross who popped in to record the audio version of his new autobiography 'Why Do I Say These Things?'.
Jonathan Ross was recently voted 'the most powerful man in broadcasting' and twice voted best radio personality of the year but more importantly, he was a big fan of our biscuits! (See his photo in our Guest Gallery).