Thursday, 30 October 2008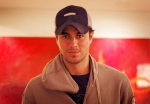 It's been a good few days for 'star spotting' here at Music 4 Studios with visits from Enrique Inglesias, Miley Cyrus (aka Hannah Montana) and Brit Award winning Adele.
Enrique Inglesias made a return visit to Music 4 to promote his new "Greatest Hits" album due for release November 17th. Enrique undertook several ISDN interviews to regional radio stations as well as face-to-face interviews. Both Enrique and his entourage had fun on our Nintendo Wii afterwards!

Actress and singer-songwriter Miley Cyrus (aka Hannah Montana) also came into the studios this week to promote her newly released album "Breakout". Miley Cyrus has been nominated for Best New Act at the forthcoming MTV Europe Music Awards on November 6th (co-incidentally, we recently mixed nomination packages for this MTV show, news to follow shortly). She has our vote! Unfortunately though, we didn't manage to grab a picture for our guest gallery. Maybe next time!

We were also delighted to welcome back Brit Award winner Adele for her third visit to promote her new single "Make You Feel My Love". Adele performed a number of songs from her number 1 platinum selling album "19". We set our vocal booth up to accommodate Adele on vocals alongside her guitarist and pianist.

After mixing the tracks on our fab SSL mixing console, we then continued with ISDN and face-to-face interviews in conjunction with delivering the recorded tracks to various radio stations. We were delighted to receive great feedback from the record company and radio stations for the overall sound and mix on her tracks and we look forward to recording more performances here at Berners Street.

For a highlight of "Make You Feel My Love" please click the link below.
Audio/Video