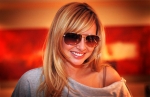 The UK's biggest girl band, Girls Aloud, are currently promoting their 5th studio album "Out of Control" and Nadine from the band spent an afternoon at Music 4 Studios to talk about the project via ISDN interviews to a number of local and regional radio stations.
Nadine joins fellow band members Kimberley and Cheryl in our ever growing guest book (they visited us back in August 2007). We just need a visit from Sarah Harding and Nicola Roberts to complete our Girls Aloud collection!

As always, Nadine received 100% star treatment and enjoyed her time at Music 4 Studios.