Wednesday, 10 December 2008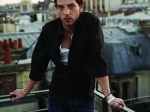 Singer, songwriter and all round top bloke James Morrison spent time at Music 4 Studios last week to promote his new single "Broken Strings".
James talked about his new single via ISDN interviews to a number of local and regional radio stations. James said he really enjoyed working out of Music 4 and looked forward to returning soon!