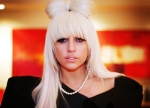 Lady GaGa, Duffy, Actor Richard Briers, Keith Chegwin, Kate Thornton, Newsreader Alistair Stewart and actor Joel Beckett (aka Eastenders Jake Moon) are the latest set of famous faces to visit the team here at Music 4 Studios.
Chart-topper Lady GaGa visited Music 4 to promote her new album "The Fame" (which includes her number 1 single "Just Dance") with a series of ISDN and face-to-face interviews to a number of local and regional radio stations.

We were delighted to welcome back Duffy on her 3rd return visit to Music 4 to talk about her success this year. Duffy undertook ISDN interviews to regional radio stations as well as face-to-face interviews.

Actor Richard Briers was on his return visit to Music 4 to voice a viral campaign for Ferrari. Keith Chegwin popped in to record jingles for The Chris Moyles Show on BBC Radio 1.

Kate Thornton popped in for her return visit to voice inserts for Elton John's New Years Eve show at the O2 Arena. The inserts were later mixed by our engineers at Music 4 Studios.

Newsreader Alistair Stewart came into the studios to record a corporate DVD via ISDN. We also accommodated actor Joel Beckett with an ISDN link to Germany to voice a TV commercial for Nivea.