Thursday, 22 January 2009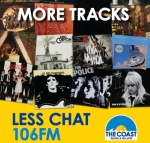 Owned and operated by Celador Radio, The Coast is the new regional radio station for the Solent area of the UK. The station launched on Thursday the 30th of October 2008 and Music 4 worked closely with the station on both the jingles and themes for the station and the overall 'production sound' and voice casting.
This station has a very unique format and playlist and our brief was to create a subtle and classy sound for the station to fit perfectly with the stations output.

We produced a number of instrumental jingles and themes based around a short yet memorable audio logo and worked closely with the programming team to identify the perfect voice for the stations jingles and liners.

All the voice sessions for the stations are recorded at Music 4 Studios.

Audio examples of our work for 'The Coast' have just been added ...click the 'go to project' link below to take a listen.
Audio/Video