Tuesday, 10 February 2009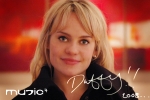 Big love and congratulations go out to Adele and Duffy on their wins at the 2009 Grammy Awards.
Both Adele and Duffy have been regular visitors to Music 4 Studios over the past 12 months to undertake ISDN interviews for local and regional radio.

Adele picked up 2 Grammy's for Best New Artist and Best Female Pop Vocal Performance for Chasing Pavements and Duffy won Best Pop Vocal Album for her debut album Rockferry.

During a visit in October, Adele recorded a live acoustic session here at Music 4 Studios. You can hear a brief highlight of "Make You Feel My Love" by clicking the 'go to project' link below!
Audio/Video