Thursday, 19 February 2009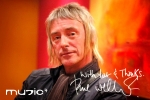 Music 4 regulars have been awarded Best Male and Female winners at the 2009 Brit Awards.

We're sending out more cheers to Duffy who scooped Best British Female, Best British Breakthrough and Best British Album. Congratulations also goes to Paul Weller for picking up Best British Male.

Like Duffy, Paul has been a regular visitor to Music 4 Studios over the past 12 months to undertake ISDN interviews for local and regional radio. On his latest visit he performed a live set featuring a number of tracks from his number 1 album "22 Dreams".

The live set and interview was sent via ISDN to the USA in real time for the influential syndicated radio show "World Café". We also recorded the set into Pro-Tools to facilitate additional mixes for future use by Paul's record company and management. The set featured Paul on vocals and acoustic guitar accompanied by Steve Craddock from Ocean Colour Scene. Paul even added a live Cello player into the set.

You can hear a brief highlight of "Light Nights" by clicking the 'go to project' link below!
Audio/Video