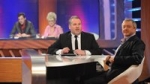 Music 4 have created the theme tune for 'Chris Moyles' Quiz Night' on Channel 4.
Chris Moyles has a new weekly show on Channel 4 (Sunday nights at 10pm) and has once again chosen to work with the team here at Music 4 to create the theme tune for the show.

The theme for 'Chris Moyles' Quiz Night' is performed live on the show by an eight-piece, all-female big band and is based on one of his favourite Music 4 jingles from his Radio 1 show called 'Morning Retro'.

On the show, Chris plays a topical quiz against the celebrity guests.