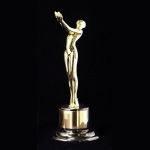 A promo for film channel Picturebox (operated by NBC/Universal and broadcasting on 5 platforms across 3 countries) has picked up a coveted award for 'Best Film Promo' at the recent Promax/BDA European Awards.

The "Rollercoaster" campaign was created by our friends at Th1ng with stunning sound design by Music 4 Studios.

Click the 'go to project' link below to see and hear the award winning Rollercoaster promo.
Audio/Video