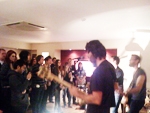 It's been a crazy week at Music 4 Studios.

The madness started Tuesday morning when Lady GaGa made a return visit to Music 4 Studios to promote her new single "Paparazzi" and her album "The Fame". Lady GaGa undertook several ISDN Interviews to regional stations as well as press interviews... her famous cup and saucer even made an appearance.

Meanwhile, Kirstie Allsopp spent Tuesday recording narration in Studio 3 for her current Channel 4 show "Kirstie's Homemade Home".

On Tuesday night, our client lounge was transformed into an intimate live music venue to showcase fab Australian band 'The Panics'. They performed their latest single "Don't Fight It" along with tracks from their album "Cruel Guards". Around 60 media and press industry guests attended and Music Week called it "the gig of the week".

On Wednesday, Placebo came into the studios to promote their new single "For What It's Worth" from their upcoming album "Battle for the Sun" and actress and singer-songwriter Demi Lovato (aka Mitchie Torres in Camp Rock) promoted her new single "Don't Forget".

After such a rock and roll week, it was also a delight to welcome Peep Show star Robert Webb on Thursday who came in to voice radio promotions for the launch of the BBC's Poetry season!