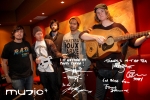 First signings to the newly resurrected Infectious Records, The Temper Trap came into Music 4 Studios to record an acoustic version of "Science of Fear" taken from their forthcoming album "Conditions".

We transformed Studio 1's vocal booth to accommodate x3 guitars, snare drum and vocals. After mixing the track we then continued with an interview with Australian network radio group DMG Radio via ISDN.

You can hear a brief highlight of "Science of Fear" by clicking the 'go to project' link below!
Audio/Video