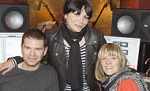 BBC Radio 1's Edith Bowman and film expert James King have decided to record their own theme song for the new James Bond film 'Quantum of Solace'.
Working with Alison Clarkson aka Betty Boo, Edith and James laid down their lyrics at Music 4 studios.

Watch the behind-the-scenes video and hear the song on Radio 1's website.