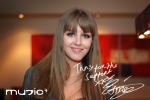 It's been a good couple of weeks for 'star spotting' here at Music 4 Studios with visits from Esmée Denters, Gael Garcia Bernal, Daisy Beaumont, Nadia Sawalha, Andrew Barton, Mark Heyes and Francine & Nicola Gleadall.

Discovered by Justin Timberlake and the first to sign to his new record label Tennman, singer-songwriter Esmée Denters visited Music 4 to promote her new single "Outta Here" with a series of ISDN interviews to a number of local and regional radio stations.

Mexican Actor and Director Gael Garcia Bernal and British actress Daisy Beaumont, (arguably most known for her work parodying celebrities such as Victoria Beckham on the Channel 4 comedy show Star Stories), both visited to narrate for a charity video & documentary respectively.

TV's favourite hairdresser Andrew Barton & GMTV fashion expert Mark Hayes, Nadia Sawalha and Eurovision Finalists to BBC's 'Your Country Needs You', twins Francine and Nicola Gleadall also popped in to record various projects with us too.