Monday, 14 September 2009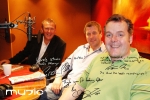 We have great pleasure in welcoming back to Music 4 Studios, footballs answer to Curly, Larry and Mo (The Three Stoogies) in the form of Mark Chappers Chapman, Kevin Day and Graham Poll for the new football seasons podcast.
This time the trio are joined by Championship Managers Roy Meredith who will be adding some incredible stats to go with the fun and inside information that we all know and love.

Welcome back boys!