Tuesday, 22 September 2009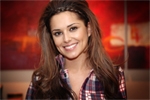 Pop princess and X Factor judge Cheryl Cole spent today at Music 4 Studios to undertake interviews and promote her forthcoming new single Fight For This Love" and her forthcoming album Three Words'.
In addition to a number of ISDN (down the line) interviews, Cheryl was visited by presenters from some of the UK's biggest and best radio stations including Rich and Kat from Capital FM & The Big Top 40 along with presenters from stations including Real Radio, Wave 105, Galaxy, Cool FM and many more.

This was a return visit to Music 4 Studios for Cheryl and as always she was absolutely lovely and everyone really enjoyed her company.

It was also great to welcome so many key radio presenters to the glitz and glamour of the West End. Many are still propping up the bar at the local pub!