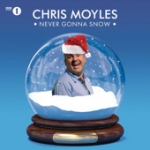 'Never Gonna Snow' is one of several original tracks co-written and produced by the team here at Music 4 for 'Chris Moyles - The Parody Album'.
To see the fantastic video for this track, click here.

This video has been airing on many TV music channels including 4Music, Viva and Magic TV.

The Parody Album has now gone 'Gold' selling well over 100,000 copies in just four weeks. The album is still available in stores or on iTunes. If you get the album on iTunes, you also get a full length 'making of the album' video too!.