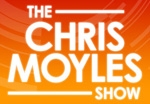 Music 4 is starting 2010 with a bang thanks to a number of new music commissions including the latest themes for The Chris Moyles Show on BBC Radio 1.
Recorded at our biggest ever session at Abbey Road Studio 1 with a full orchestra and then mixed and mastered here at Music 4 Studios, this is one BIG sounding package!

Click 'go to project' below to hear the results and
check out some photos from the recording session.

Also coming soon... new jingles for BBC London 94.9 and new packages for Wave 105 and Spin Southwest (Ireland).
Audio/Video