Wednesday, 13 January 2010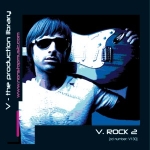 Music 4 has delivered V.Rock 2 to further enhance the already stunning offering from V - The Production Library...
V - The Production Library is the world class production music library created by Music 4 and sold to Non Stop Music (a division of Warner Chappell) last summer.

As part of the sale, the team here at Music 4 were retained to create new music for the library and the first release, V.Rock 2, is available now.

To get it, you'll need to register with Non Stop Music's 'Cuegle' service... click here to register.

The next album for 'V' is close to completion too. Watch this space!