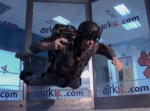 Extreme Gaming - strap an Epson HD ready projector to your front, a PS3 to your back and take gaming to a whole new level. This is Need for Speed taken to new heights... and when you need music to help create the desired effect Music 4 were called upon to create an atmospheric piece of music that really compliments this outstanding video.

With over half a million hits in less than a week, this You Tube phenomenon will continue to hit dizzy heights.

Click the 'go to project' link below to watch the video.
Audio/Video