Project Info
Strings and things for Chris Moyles' 2007 imaging updates.
For Chris's fourth year on breakfast, new tracks were recorded in the historic Studio 2 at Abbey Road with brass, strings, piano, bass and drums played together as a 'live' performance. One of the trumpet players booked for the session actually played on the Beatles hit, Strawberry Fields Forever, in exactly the same studio 40 years earlier to the month!


Project Photos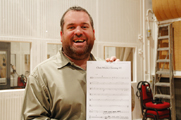 Click here for more
Client Info
Radio 1 is the BBC's national music channel targeting the 15 to 24 age group and home to some of the UK's best known DJs.